WEATHERFORD, Texas (AP)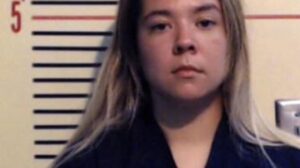 A Texas woman told investigators that she left her 2-year-old daughter and 16-month-old son in a hot car where they died last month to teach the girl a lesson and that they didn't lock themselves in, as she initially reported, according to sheriff's officials.
Cynthia Marie Randolph, 24, was being held Saturday on two counts of causing serious bodily injury to a child. It wasn't clear if she had an attorney — online jail records didn't list one for her — and she doesn't have a listed phone number. Article continues on the next pages.
Locked in the car
According to the criminal complaint, Randolph initially told investigators she was inside her rural home west of Fort Worth folding laundry and watching TV on May 26 while the children were playing on the enclosed back porch. She said when she noticed they were no longer there, she went looking for them and found them about a half-hour later locked in the car. The children were unresponsive and Randolph said she broke a window to gain entry. Temperatures that day reached into the mid-90s.
Extreme temperatures
At the time Randolph said the kids were exposed to the extreme temperatures in the car for "no more than an hour." But her account of that day changed over the course of several interviews with investigators until she acknowledged on Friday that she left them in the car intentionally, the Parker County Sheriff's Office said in a news release. She told investigators that she found the kids playing in the car and when the 2-year-old refused to get out, she shut the door to teach her a lesson, thinking her daughter could get herself and her brother out of the vehicle when ready.
"They were unresponsive"
Randolph said she went back into the house, smoked marijuana and took a nap for two or three hours, the complaint states. It says that when she woke up and went to check on the children, they were unresponsive, and that she broke the car window to support her initial claim that the children had locked themselves inside.
The children were pronounced dead about a half-hour after authorities were notified.
Authorities declined to discuss the case Saturday.