This Filmmaker Did Something Stunning For Mother's Day
Charles Frank slowly grew away from his family, especially his mother. He always thought that she never took any home videos, but he later found a whole bunch of them. He decided to save his relationship with his mother and make an amazing film using old footage from home videos and voice mails from his mom. He made the film in her honor, which you can watch in the last page of this article. He called it "My Baby You'll Be – An Open Letter."
She Was Constantly Trying To Call Him, But He Never Picked Up
Filmmaker Charles Frank used real recordings of voicemail he had received from his mother. She would call and leave messages saying "I'm missing having a son…" and he was actually very busy, too busy to talk to his own mother…
Charles Is Only 21 Years Old
But he's already a talented filmmaker operating out of Brooklyn. During the shots of him going about his daily life, his mothers voicemail plays in the background, playing to the fact that Frank is ignoring his mother.
The Film Takes A Trip Back In Time…
Now the film takes a look into the past, using real footage from home videos his mom had filmed herself. She is narrating the whole thing, talking about how today is a big day for Charles, etc. It is truly touching.
There Are So Many Amazing Moments Of Him And His Mom Together
He takes clips of his entire childhood, and the result is stunning. What becomes obvious is that his mother was there for him this entire time, she loved him completely. And today, by leaving all those messages she is just trying to continue doing what she did in the past. She wants to be there for every moment of his life.
The End Brings Tears To My Eyes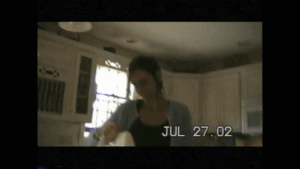 The end of the video is the most touching. It's a scene of his mom, with a message she had left on voicemail, saying these touching words: "I'm behind you every step. I love you. Bye."