Shocking
Arizona officials are releasing shocking new information about a baby who was abandoned at an airport in Tucson last month.
As previously reported, the newborn baby was abandoned in a women's restroom at the Tucson International Airport on January 14.
The baby was reportedly discovered on a changing table around 9:30 p.m. near the car rentals, and the person who found the baby boy could not find the child's mother. Continues on the next pages…
A note
Before the baby was sent to the hospital, he was fully checked out by firefighters, who believed he was in good health.
While very few details were released at the time, authorities say the newborn's mother actually left behind a note for those who found her baby.
The note, which was reportedly found next to the baby boy, read: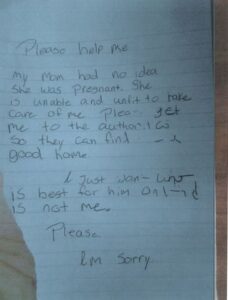 Please help me.
My mom had no idea she was pregnant. She is unable and unfit to take care of me. Please get me to the authorities so they can find me a good home.
I just want what is best for him only it is not me.
Please.
I'm sorry.
Footage
Surveillance footage reportedly caught a woman with dark hair walking through the airport while wearing a crochet beanie, a dark jacket, dark yoga pants, a backpack, and a purple neck pillow.
Police believe the woman on camera, who looked to be in her 20s, is the baby boy's mother.
Authorities say the surveillance footage shows that the woman in question seemed to be arriving after a flight with her bundle, but it remains unclear if she actually was on a flight beforehand.
Facebook
After this story was shared on Facebook, many commenters slammed stations for showing the woman's photo and painting her in a bad light.
Heidi Erikson wrote: "Guys she gave birth in the bathroom and instead of flushing or trashing the baby like so many others do, she left it in an airport bathroom where she knew it wouod be found instantly. So she didn't try to find a fire station near an airport in a town she doesnt live in after giving birth in the bathroom. But she didnt harm the baby or try to raise it when she knew she couldn't. They should just leave her be."
Don't humiliate her for making this decision
"7news take her f-ing picture down! What's wrong with you??? People are going to harass and shame her, she made the right decision. She could have left the kid in a dumpster or the side of the road. Don't humiliate her for making this decision. The baby is fine," Jenelle Danna Heinsma added.
Others pointed out that the woman who gave birth could have left her son at a safe haven, like the fire station down the street.
Ilea Scobee commented:
"I am so glad that she had good intentions but for f*cksake why doesn't anyone know about the safe haven laws? Someone needs to get some advertising over the television and radio about the safe haven laws in every state where you can safely drop an infant off anonymously no questions asked at a fire station."