1000 Likes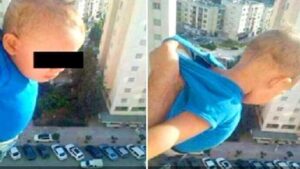 An Algerian man has been sent to prison for two years for dangling a toddler out of a window of a high-rise building in the capital Algiers while asking for 1000 Facebook likes.
The unnamed man shared a picture of himself holding the baby by his t-shirt with a caption '1000 Fb likes or I will drop him', according to news site Al Arabiya. Article continues on the next pages.
Viral
Social media erupted with anger and shock after the post went viral, leading to his arrest on Sunday. He has, however, defended himself, saying the image was photoshopped by Facebook users, reports said.
"The picture was taken in a balcony with protective barriers. These were removed," he said.
"Part of a game"
The child's father pleaded for mercy on behalf of the man, who is a relative, saying it was all part of a game, the BBC reported.
The court dismissed the pleas and charged him with child abuse.