Dogs are amazing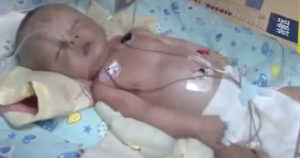 Dogs are pretty amazing creatures. They make wonderful pets, they can help people after a traumatic crisis, assist those with disabilities, and just all around make the world a happier place. As it turns out, some dogs can even save lives, too. One incredible dog saved the life of a newborn baby, and the story is definitely one that you won't want to miss.
Yang Jiali
A Chinese woman named Yang Jiali was at home when her new dog suddenly ran out of the house. She chased him down until she finally found him on a farmland acting strangely. The dog was frantically trying to dig a hole behind some bushes, and Yang could not get him to stop. Upon closer inspection, she realized what was going on. There, inside the hole that her dog had dug, lay a tiny, newborn baby wrapped in a cloth. Yang's dog must have been able to smell the baby boy from beneath the dirt, and was trying to save him!
Still alive
Thankfully, the infant was still alive. Yang heard the baby begin to cry as her dog worked to free the child. She quickly pulled the baby out of the hole and took it to a nearby hospital. The doctor reported that the infant had low body temperature and a slow heart rate. She said the poor child's mouth was "full of mud"; it was obvious that the baby had been buried alive.
About a month old
The child, who appeared to be just about a month old, was transferred to a central city hospital, and is currently in recovery. Luckily, the young boy's life is not at stake, and he should be fine after spending some time in the hospital.
The police have been alerted of the situation, and believe that the boy was buried by his family after they mistakenly thought he had died. Authorities are working to contact the parents.
The dog was a life saver
The fate of the young child could have been much worse if Yang's dog hadn't come to his rescue. While we often think of our dogs as cuddly pets, or maybe even a chore that we have to walk or clean up after, sometimes they can truly be heroes. In this case, Yang's dog was a life saver.
Happy ending
It is terrifying to think about parents doing something so horrific to a brand new baby, but thankfully, this story has a happy ending, all because of a dog! Hopefully the hospital and police are able to get to the bottom of the story, and the young child can be at home with a loving family after such a frightening start to life.
We're sure Yang is going to keep a very close eye on her new dog; who knows what heroic thing the pooch may do next!