Daycare Drop-Off
A Minneapolis father went to a local daycare to drop off his child like every other morning, only this day he noticed 43-year-old daycare owner Nataliia Mykhaylivna Karia wasn't "acting right." As he stood there Nataliia couldn't help but expose that she'd "done something bad."
The Discovery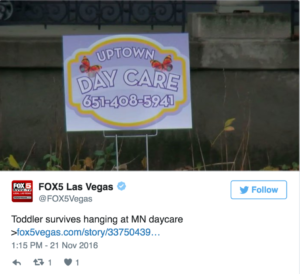 The father heard screams coming from the basement and decided to investigate it without Nataliia's permission. As he walked down the stairs, he noticed the hanging body of a 16-month-old boy.. The boy looked like he was almost dead. He immediately grabbed the boy down from the noose and rushed him home – meanwhile a frightened and traumatized Nataliia fled the daycare.
Suicide Attempt
Authorities were called by the father, letting them know the dangerous daycare owner was on the loose. But they didn't have to search long for her, as she'd struck a cyclist, crashed into a pregnant woman and hit a man as he exited his car. Thankfully, all of the victims are expected to survive.
Nataliia was so terrified of the consequences for her actions that she pulled her car over on a nearby bridge and attempted to jump off a highway overpass. Bystanders luckily got through to Nataliia, subduing her until police arrived on the chaotic scene.
The Shock!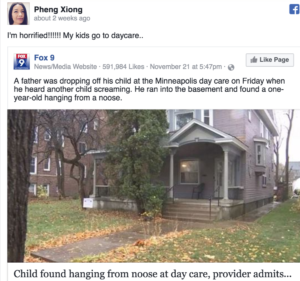 Although the boy survived, parents in the area were completely shocked to find out the actions of a woman who seemed to have it together. They each realized it could've been their child hanging from the basement instead. Imagine knowing that your children were not safe at a place you pay for them to be taken care of at, it's enough to cause any parent to try homeschooling.
The Sad Truth
Sadly, child abuse and neglect have been found at daycare centers more frequently than ever, prompting a discussion that these workers should be certified in some way. While parents hope other adults have their children's best interest at heart, it's sadly not the case for adults with mental health issues. People snap every day, but we can't imagine wanting to hurt an innocent life that you've been hired to care for. We hope the child makes a speedy recovery!